President: Janette Burgess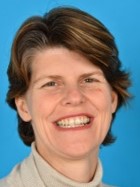 Janette Burgess is a Rosalind Franklin Fellow. Janette arrived in the Netherlands from Australia in 2015, and is full Professor and member of the Department of Pathology and Medical Biology at UMCG. Janette completed her Bachelor of Science (with honours) at the University of Adelaide in 1991 and her PhD at the University of New South Wales in 1998. In 1999 she was appointed to a Post-doctoral position at the University of Sydney under the guidance of Prof. Judy Black. She has been awarded a National Health and Medical Research Council (NHMRC, Australia) Peter Doherty training award (2000-2006), NHMRC R.D Wright Career Development Award (2006-2011) and a NHMRC Career Development Fellowship level 2 (2012-2015).
Janette's research focusses on the role of the extracellular matrix (ECM) in lung pathology.
Contact: Faculty of Medical Sciences, University Medical Center Groningen.
Postal address: PO Box 72, 9700 AB Groningen, The Netherlands.
Phone: +31 (0) 50 3618043
E-mail: j.k.burgess@umcg.nl